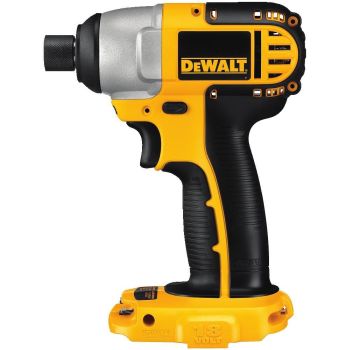 Before starting this review on the DEWALT DC825B mpact driver it is important for readers to realize that when you buy it, you will be getting the tool only. The battery and charger must be purchased separately. That is why it is referred to as the Bare-Tool DEWALT DC825B.
The DEWALT DC825B can be used with DEWALT 18V NiCad or lithium-ion batteries. It has a frame less motor for extended tool durability and added life. And the compact size and weight allows you access to tighter and smaller work areas, plus it reduces user fatigue.
With 1,330 in-lbs of torque this tool can perform a wide variety of fastening applications. It performs 0-2400 rpm and 0-2700 ipm for faster application speed as well. The brushes are replaceable for increased performance, and the Bare-Tool DeWalt DC825B has a textured anti-slip comfort grip that allows the user maximum comfort and control.
DEWALT has been manufacturing cordless power tools for years and has a line of over 200 products and 800 accessories. This could include anything from hammer drills to jig saws. The Bare-Tool DEWALT DC825B is one of those tools, and you will love the variable speed reversing switch to help control both the setting and removing of fasteners. It also features a bright LED work light and on board bit storage for convenience. For working on long projects the tool has advanced handle ergonomics and the textured anti-slip rubber grip helps user comfort and productivity.



What Actual Customers Think of The DEWALT DC825B Impact Driver
• "I own 9 impact drivers from 3 different manufacturers and my old Dewalt (ni-cad style) was my least favorite of the group but the Bare-Tool DeWalt DC825B (which is made for the new 18v Lithium-Ion type batteries but works with all my old 18v ni-cads) is top notch. Dewalt has apparently fixed most of the problems found in the old ni-cad style impact guns (like excessive bit wobble) and added a light like the Makitas and Ryobis have. Now more compact and more powerful than the competition. A definite winner."
• "I use the Bare-Tool DeWalt DC825B to drive drywall and lag screws. I have not had any problems. The redesigned tool is smaller than the older one and the led light has made this tool even better."
• "I was very pleased to discover that Amazon had a DeWalt impact driver available in a battery free and case free package (for those of us who already have a charger and several batteries) for about $125. I purchased the Bare-Tool DeWalt DC825B for a mix of yard projects- this is a great tool for driving the big screws used to tie landscape timbers together- home projects, and motorcycle/scooter maintenance. And amazingly, it's even lighter and more compact than the DEWALT DC759KA Heavy-Duty 18-Volt Ni-Cad 1/2-Inch Cordless Drill/Driver Kit. I'm giving away my Makita 12v drill/driver to a nephew who likes tools and gadgets, and switching 100% to the DeWalt system."
Customer remarks are paraphrased to save space.
You can read more DEWALT DC825B Impact Driver reviews here


DEWALT DC825B Impact Driver Review Summary
When preparing this review of the Bare-Tool DEWALT DC825B we studied almost 80 reviews of customers actually using this product. The reviews and feedback were astounding on this product. At first it was unsure if people would like a tool without the battery, but research shows that if you have a battery from another power tool that will fit the Bare-Tool DEWALT DC825B, this will save you a lot of money. Many of the batteries and chargers from different power tools are interchangeable, and this is a great advantage to buyers.
Customer seemed well pleased with the performance of the DEWALT DC825B impact driver, and we could find no complaints to mention in this review, which is high praise for sure! The product is lightweight and easy to use and performs many fastening applications.
All in all, the DEWALT DC825B is an excellent impact driver. It is not the cheapest but clearly one of the absolutely best impact drivers on the market.

You can buy the Bare-Tool DEWALT DC825B Cordless Impact Driver at Amazon.com, taking advantage of Amazon's cheap prices and excellent customer service. Click here to go to Amazon.com