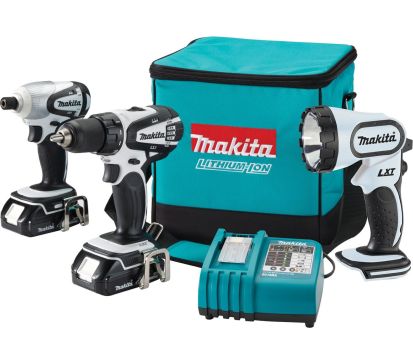 Average Customer Rating: 4.6 out of 5
Rating:
Note that there is a new model, the Makita CT300RW 3-Piece Combo Kit, which replaces the Makita LCT300W kit. Here you can learn more about the Makita CT300RW 3-Piece Combo Kit
The Makita LCT300W Combo Kit is a three piece combo kit with quite a few great features. First, it has a two-speed 1/2 inch 18V driver-drill (Makita LXFD01CW) that delivers 450 inch-pounds of max torque, and secondly, the powerful 18V impact driver (Makita BTD142HW) provides 1,280 inch-pounds of max torque while weighing only 2.8 pounds. Both tools have LED lights, making it easy to work in dark environments.
This cordless combo kit also has a four-position flashlight with Xenon bulbs and it will run over two hours on one charge. This combo kit is built for the professional, a person who requires the very best in cordless tools that can be used for drilling, driving, and fastening, yet in a compact size. All this makes the Makita LCT300W one of the bestselling combo kits on the market.
The Makita delivers 2,000 cycles, which is 2.5x more than Ni-Cd. It also contains built-in shock absorbing features that protect the battery and firm contact terminals to ensure constant high power. Additionally, Makita offers a rapid automotive charger which plugs into the standard car 12V DC sockets. Note that the rapid automotive charger is not included in the LCT300W Combo Kit. It has to be purchased separately.
What's In The LCT300W Combo Kit
• 1/2-Inch LXFD01CW Driver-Drill
• BTD142HW Impact Driver
• Two 18v Compact Lithium-Ion Batteries
• Rapid Optimum Charger
• Contractor Bag
An interesting fact found while making the Makita LCT300W Combo Kit review. In the past three years since they have debuted their 18V LXT Lithium-Ion battery they have grown their series to over 35 tools. And they all provide a wide range of cordless solutions for professional tradesmen.
Research shows the Makita LCT300W to be very high end when it comes to cordless equipment and the price reflects that. However, pros consider this the cost of having dependable equipment that works when needed. We did find that if the Makita LCT300W combo kit is the one you want you can save over $200 by purchasing it on Amazon.com.
Makita's Lithium-Ion tool is backed by a three year warranty that covers repair due to defects, or workmanship from the date of purchase. The charger only have a one year warranty. You can see all the details at makitatools.com
Makita LCT300W Combo Kit Review By Customers
• "Impact Driver: I will never drive wood screws with a drill again! Significantly less pressure is required to keep the phillips bit in contact with the screw head. I've driven 3″ wood screws all week and not a single stripped head. It can install a fastener in tight places where a drill or hammer/nail just can't go. Superior torque will bury the screw (head and all) as deep in the wood as you want to go. I will use the Makita LCT300W more than any other tool in the kit. It is a little beast!
Drill: Good combination of power and speed. Enough to push a 1 1/4″ self feeding bit through 3 1/2″ of pressure treated lumber the high torque setting. 5/8″ self feeding bits eat through studs in a flash on the high speed setting. It is light like a cordless tool should be, and has the best power/weight ratio of any cordless by far. It comes with a quality chuck and plenty of torque. I think the drill is slightly better than the compact 18v Milwaukee and just a shade behind the Dewalt DC720KA which are both fine products."
• "First off, I'm a professional fabricator, and I've been typically really hard on my tools, especially cordless tools, but these have far exceeded my expectations. I bought the Makita LCT300W when I was in a jam, my heavy duty 18v Milwaukee crapped out after only 2mos of service, and only a week back from its first warranty repair (I'm no longer a Milwaukee fan, sadly). Well, needing to finish a project for Monday, and stuck looking for a new driver/drill on a Saturday night, I picked up the combo kit at a Home Depot minutes before closing, figuring it would get me through the project, and the impact driver might come in handy for some light duty projects later on."
• "I have been using the Makita LCT300W every day at work and have never been more impressed with their performance. The light weight makes carrying them around a breeze and the battery life has been nothing short of amazing. The batteries recharge in what seems like no time at all (15min at the most, much less if they just need a topping-off)."
Customer remarks have been paraphrased to save space.
Here you can read more Makita LCT300W Combo Kit customer reviews
Makita LCT300W Combo Kit Review Summary
Our review shows that Makita has really stepped up to the plate on this tool and customers are very happy with the results it gives you. The Makita LCT300W combo kit includes everything you need to get started, from the tools, to batteries, and charger. You get two powerful but compact and lightweight tools. It is not the cheapest combo kit but you get good value for your money.
The only complaint we found from a few customers was that the chuck has a wobble problem, however those people did return it for a new one. Other than the wobble problem there was one person who felt the battery did not last long enough as well. These two problems seem to be random, and not a problem for the majority of customers. We feel the good warranty still gives you a safe feeling to purchase this combo kit. As mentioned earlier, go to Amazon to get all the details about the Makita LCT300W Combo Kit and the best buy ever! Click here to go to Amazon.com