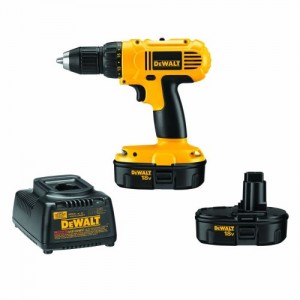 If you are looking for a great drill, the DEWALT DC970K-2 is an excellent choice. It's compact enough to fit in the tightest places, but lightweight enough to minimize user fatigue. It weighs only 5.2 pounds but delivers maximum power of 380 unit watts out. The drill kit includes two 18V NiCad batteries but the DC970K-2 Drill/Driver can also be used with DEWALT 18V Lithium-ion batteries.


DEWALT DC970K-2 Drill/Driver Highlights At A Glance
• High-performance motor delivers 380 watts
• Dual speed range of 0 – 450 RPM and 0 – 1,500 RPM
• 17 clutch settings
• Lightweight design at only 5.2 lb.
• Compact size to fit in tight locations
• NiCad battery charges in 60 minutes
• Works with 18V DEWALT Lithium-ion batteries as well (e.g. DC9180)


This DEWALT DC970K-2 drill has a dual speed range from 0 to 450/0-1500 rpm's for optimal performance and when coupled with the 380 unit watts of power, you just can't beat it for working around the home, or on the job. You get excellent value for your money. It is easy to understand why the DEWALT DC970K-2 has been the best-selling drill/driver kit for a long time.
The DEWALT DC970K-2 comes with a 90 Day Money Back Guarantee, 1 Year Free Service Contract, and 3 Year Limited Warranty.

Pros
Compact and Lightweight Design
Very Good Value for the Money
Cons


The following is included in the DEWALT DC970K-2 Drill/Driver Kit
1/2-inch compact Drill/Driver
two 18-volt NiCad Batteries
one-hour Charger
Carrying Case


DEWALT DC970K-2 Review Remarks From Customers
Our DEWALT DC970K-2 review of the drill/driver kit shows it is really loved by customers and one of the reasons is the two batteries that come with it. You have a spare while one is charging and your work can continue without worrying about chords to plug in. The ease of cordless tools is so popular today because of this very reason. Almost all customers gave a favorable review and agreed on that the drill is a real workhorse.
One complaint said that they felt the batteries included with the kit do not last long, while another customer complained it would not drill through brick or concrete walls good enough. There were only these two complaints out of many reviews, so we feel we can highly recommend the DEWALT DC970K-2 in confidence.
Here are some typical customer quotes:
• "The DEWALT DC970K-2 is a great drill that really accomplishes anything I throw at it. I've been able to easily screw in 3″ construction screws into dry fir. Great for flooring applications and really nice slow speed to make sure you're starting steady."
• "The two batteries that come with this kit are great. I've been able to go a full day without swapping. The only time I need to swap more often is if I'm using a 1″ wood drill bit going through very dry fir beams/joists. I've been able to use an 18″ long 1″ wood drill bit without so much as a slowdown. Very impressive for a drill this size. It's my general use drill that I use for pretty much anything."
• "The DEWALT DC970K-2 is the drill I was looking for so long. I had gone t HD to buy a DEWALT drill and they were too expensive. Now I found this drill for $120.00 at Amazon, I already put it to use. I built a shelf 9'x7′ 4 levels made out of wood. Solid shelf. One battery lasted almost for the entire job. But this drill comes with two; so while you use one, have the other one charging. I recommend it!"
• "Power and easy handling. For a cordless drill I don't think I have had more power and bite. Comes with a back up battery as well. You will be very satisfied with this one!"
• "I've had this drill for about 8 months now, and I absolutely love it! The drill has never let me down, and the batteries seem to last forever until the next charge!"
Customer remarks may be paraphrased to save space.
Here you can read more DEWALT DC970K-2 Drill/Driver customer reviews


DEWALT DC970K-2 Review Summary
The DEWALT DC970K-2 Drill/Driver Kit has been very popular, the reason for its success is easy to explain, you get very good value for your money. The drill/driver is powerful but compact and lightweight. The kit includes two batteries, a charger and a carrying case. If you are looking for a powerful cordless drill/driver and want good value for your money, the DEWALT DC970K-2 is well worth having a closer look at.
You can buy the DEWALT DC970K-2 Drill/Driver Kit at Amazon.com, taking advantage of Amazon's cheap prices and excellent customer service. Click here to go to Amazon.com and have a look at the DEWALT DC970K-2.