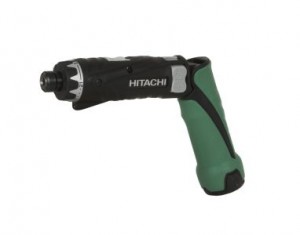 The Hitachi DB3DL2 is a compact and lightweight screwdriver. For its size, it is powerful. It is only 10.55″ in length and weighs less than one pound, making it very comfortable to operate.
The DB3DL2 has a dual position handle, allowing straight-grip or pistol-grip operation. The Hitachi DB3DL screwdriver comes with a quick-change 1/4″ hex chuck with bit lock, making it quick and easy to change bits. It has an integrated LED light, making it easier to work in dark areas.
The DB3DL2 has 21 clutch settings plus 1 drill setting as well as two speed settings. All in all, it is a very versatile electric screwdriver. The price is very reasonably, giving you good value for your money.
The DB3DL2 screwdriver uses Hitachi's 1.5Ah 3.6V lithium-ion batteries. They are 50% lighter than similar Ni-Cad or NiMH batteries. The batteries take only 30 minutes to charge. You get two batteries with the screwdriver, so you can work non-stop.
The Hitachi DB3DL2 screwdriver does not have any major shortcomings. But bear in mind that while the DB3DL2 is powerful for its small size, it is not suitable for heavy duty tasks. For heavy tasks, you need a more powerful screwdriver than a 3.6 Volt model.
The DB3DL2 is covered by Hitachi's Lifetime Lithium-Ion tool warranty and 2-year Lithium-Ion battery warranty.
The customers have given the Hitachi DB3DL2 screwdriver an average rating of 4.5 out of 5. Virtually everyone said that the DB3DL2 is lightweight and easy to use. Almost everyone thought that they had got good value for the money. Some customers had noticed that for heavy tasks, the DB3DL2 screwdriver is not really powerful enough. Apart from that, very few had anything negative to say about the Hitachi DB3DL2.
Pros
Compact and lightweight
Very good value for the money
Cons
Not powerful enough for heavy tasks


You get the following with the Hitachi DB3DL2 screwdriver:
Two 3.6V 1.5 Ah Lithium-Ion Batteries
30-Minute Battery Charger
One Philips Head Driver Bit
Plastic Carrying Case


Hitachi DB3DL2 Screwdriver Specifications
| | |
| --- | --- |
| Voltage | 3.6 |
| Battery Type | Lithium-Ion |
| Battery Capacity | 1.5Ah |
| No-Load Speed | 0-200/600 RPM |
| Max Torque | 44 in/lbs |
| Clutch Stages | 21 |
| Spindle Lock | Yes |
| Drilling Mode | Yes |
| LED Light | Yes |
| Overload Protection | Yes |
| Over-Discharge Protection | Yes |
| Charging Time | 30 Min. |
| Tool Length | 10.55″ |
| Weight | 0.9 lbs |
For more details, please check the DB3DL2 User's Manual here


Hitachi DB3DL2 Screwdriver Review Summary
The Hitachi DB3DL2 Screwdriver is good and versatile screwdriver. You can find cheaper cordless screwdrivers but the Hitachi DB3DL2 is certainly well worth having a closer look at. It is compact, lightweight and has plenty of power.
You can buy the Hitachi DB3DL2 Screwdriver at Amazon.com, taking advantage of Amazon's low prices and excellent customer service. Click here to go to Amazon.com and have a look at the DB3DL2 screwdriver.


Information From the Manufacturer
This handy cordless screwdriver is the ideal tool to easily complete everyday projects around the home or shop. It is perfect for tightening or loosening fasteners or drilling holes in odd or tight spaces. Around the home, the DB3DL2 can be used for hanging blinds, removing or installing light fixtures and switch plates, assembling furniture, hanging pictures, working on intricate hobby projects and to easily and quickly complete any odd job. Professional users reach for this tool as a convenient timesaver in applications like handy work, computer repair, appliance and copier maintenance and much more.