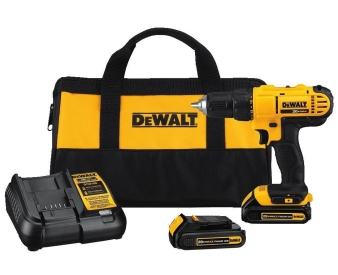 The Dewalt DCD771C2 is not a heavy duty drill but it is great for tasks around the house. The DCD771C2 is a basic but very useful drill/driver. Best of all, it offers excellent value for the money.
The Dewalt DCD771C2 is compact and lightweight, just 3.6 pounds with the battery. It is easy to use, just make sure that you know how to use a ratcheting chuck. The small size makes it easy to work in tight spaces. The DCD771C2 has two speed settings, 0 – 450 RPM and 0 – 1,500 RPM, and supports reverse mode. The clutch has 16 settings. The DCD771C2 also has a built-in work light. It may not be the most exciting drill/driver but for homeowner it is a very useful tool.
Thanks to the two batteries included in the kit, you can work non-stop. The charger is fast, the batteries are charged in roughly 40 minutes. The kit includes a soft bag which is large enough to hold the DCD771C2 drill/driver, the two batteries and the charger, as well as plenty of bits. All in all, it is a nice kit for people who need a good drill/driver and who want good value for their money.
The Dewalt DCD771C2 Drill Driver Kit comes with a 3 year limited warranty, as well as a 90 Day Money Back Guarantee and a 1 Year Free Service Contract. Note that you don't get a tool belt hook with the DCD771C2 kit. No driver or drill bits are included.
Pros
Compact size and lightweight
Powerful
Excellent value for the money
Cons
Not suitable for heavy duty
The following is included in the Dewalt DCD771C2 Drill/Driver Kit:
DCD771 1/2″ Drill/Driver
Two 20V Lithium-ion Battery Packs
Compact Charger
Contractor Bag
Dewalt DCD771C2 Drill/Driver Specifications
| | |
| --- | --- |
| Voltage | 20V |
| Battery Type | Lithium-ion |
| Max Power | 300 UWO |
| # of Speed Settings | 2 |
| Max RPM | 1,500 |
| Clutch Settings | 16 |
| Chuck Size | 1/2 |
| Chuck Type | Ratcheting |
| No Load Speed | 0-450/0-1,500 RPM |
| Drive | 1/2″ Ratcheting Keyless |
| LED Light | Yes |
| Tool Weight | 3.6lbs |
| Tool Length | 8.7″ |
| Shipping Weight | 6.5lbs |
What the Customers Say about the Dewalt DCD771C2 Drill/Driver Kit
The customers have given the Dewalt DCD771C2 an average rating of 4.6 out of 5. In other words, most customers were very happy with their drill/driver kit.
Virtually everyone said that they had got very good value for the money. Most of the buyers said that the drill is lightweight, compact and powerful. Many of the customers also liked the fact that two batteries were included, which allow them to work non-stop.
Not much negative was said about the Dewalt DCD771C2 Drill/Driver kit. Some of the buyers were not used to a ratcheting chuck and had some trouble in the beginning. Some others had trouble charging the batteries. One has to push the battery release button to lock the battery into the charger, otherwise it will not charge fully. A few customers also mentioned that the drill was not suitable for heavy jobs. But on the whole, most people were happy with their Dewalt drill/driver.
Here are some typical customer remarks:
"This drill has made my lift much easier, whether fixing a loose door or helping secure items around the house as we babyproof everything. Compact shape makes it easy to use in tight spaces, and it has proven to have all the power/force I have needed for these small tasks. Stores easily and compactly as well. Great purchase."
"After a lot of research, this one was the clear winner for cost and accessories. Instantly the biggest change was the weight; our old Craftsman was over 5lbs to hold, this one was just over 2lbs. The size was much easier to handle and the added LED light assists in getting into dark and cramped areas to get the job done. The two batteries and the charger combined with the drill sealed the deal. Powerful, light weight, easy to handle. A winner."
"I'm very pleased with this drill!! I bought this to help with a deck project I was working on for my house. I figured that as long as it got through the project I would be happy. Well; several hundred deck screws later and a complete project, this drill is still going stronger than ever. I love that it comes with 2 batteries so you always have one charged and at the ready."
"Had its cousin made by Black and Decker. Unlike the B&D model, this one has a ton more power/torque. Dual speeds work flawlessly. Haven't found an application that makes this little gem struggle. Battery life is great as well. I am not a pro but use this frequently around the house."
Customer comments were paraphrased in order to save space.
You can read more Dewalt DCD771C2 Drill/Driver Kit customer reviews here
Dewalt DCD771C2 Drill Driver Kit Review Summary
If you are looking for a simple but good drill/driver, then you should have a closer look at the Dewalt DCD771C2 Kit. It is a compact and lightweight drill but despite that it has plenty of power. The price for the kit is very competitive, giving you excellent value for the money. It is easy to understand why the Dewalt DCD771C2 Kit is one of the best-selling drill/driver kits.
You can buy the Dewalt DCD771C2 Drill/Driver Kit at Amazon.com, taking advantage of Amazon's low prices and excellent customer service. Click here to go to Amazon.com and have a look at the DEWALT DCD771C2